The Flipster
by Runoffgroove
The Ampeg™ SB-12 Portaflex™ adapted for use as a distortion stompbox.
From runoffgroove.com When one thinks of classic bass amps, the brand name "Ampeg" often comes to mind. Their SVT models were very popular and still are today. Slightly less known Ampeg combo-type models were also made, called "Portaflex" amps. In "travel" form, these appeared to be simple closed back speaker cabs with a pair of chrome latches on either side of the top panel. When one released the latches, the top panel could be removed and flipped over to reveal a tube head unit. One simply plugged in the attached speaker cable and the amp was ready to go. The unique design led to the nickname of "Flip Tops."
We looked at many schematics for the vintage Ampeg bass amps and came to the conclusion the popular SVT is very similar to the Portaflex models as far as circuit topology goes. The Portaflex models are simplified versions of the SVT model. We picked one of the Portaflexes to keep our circuit as straight-forward as possible. We named the circuit the Flipster, a take-off of the nickname of the old amps.
We chose the SB-12 model Portaflex as our starting point for a FET-based bass overdrive. It is simple, and we had an historical reference: a member of the runoffgroove.com team had once owned a late "60s SB-12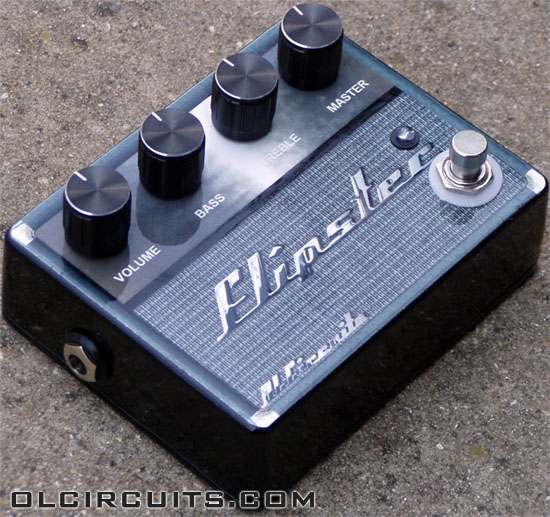 Note: this is a prebuilt pedal for illustrative purposes. The kit version will be bare metal... an open canvas upon which to add your touch.
Customer Clips:
James Hart clip 1 Bass
James Hart clip 2 Bass

True-bypass
Four controls: Volume, Bass, Treble, Master