OLC Darth Fader
The Darth Fader is a tube tremolo pedal... with an all-tube signal path. It was taken from a more elaborate design named Bullitt, which was created by Andrew (a.k.a The Tone God). OLCircuits licensed this design from Andrew and named it Darth Fader.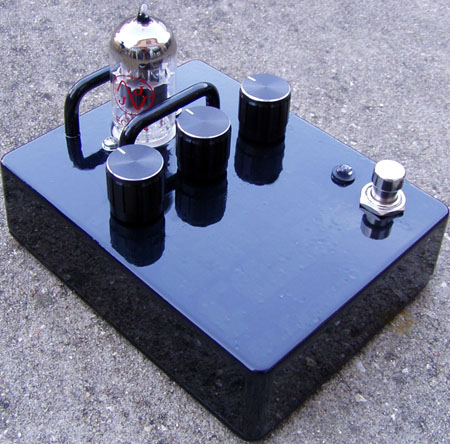 Note1: this is the pre-built version for illustrative purposes. The kit version will be bare metal... an open canvas upon which to add your touch.
Note2: the aesthetic 'rollbars' (near the tube), are no longer available.


- All-tube (no transistors or opamps in the signal path)
- unique
- DC powered (for hum-free performance)
- low-voltage (for your safety)
Specs:
- Rate: Turn this knob for faster or slower modulation.
- Depth: The amount of fluctuation in the volume
- Volume: Ouput volume.
Other:
- Operates on 12 VDC power adapter (included for US customers, see this FAQ for specs and a recommended Maplin unit for international customers)
- Input / output / DC jacks are on the rear side of the pedal.
- Power supply and tube included.
- True-bypass, as usual.
Customer Clips:
Darth Fader (in an original song) by Ben M.
Darth Fader 1 (solo) by Ben M.
Darth Fader 2 (solo) by Ben M.
Darth Fader 3 (solo) by Ben M.
Darth Fader 4 (solo) by Ben M.
Darth Fader 5 (solo) by Ben M.